S9-M/S10-M/S11-M/S13-M three phase oil-immersed full sealed distribution transformer differs from ordinary oil-immersed transformer, it cancels oil conservator and heat-sink cooling by ripple plate radiator in oil tank, which can compensate the increase and decrease of oil volumetric by elastic breathing. All series product are suitable in 10KV, 20KV, 35KV power transmission and distribution system, can be used in residential area, commercial street, industry mining enterprises.
Structural Features
1. Iron core
The iron core is made of high quality cold rolled silicon steel sheet, adopts the kinds of types like full-bias multi-step seam, no punched hole, winding iron core, etc., besides, both stainless steel stay plate and epoxy glass belt are for clamping it.
2.Coil
High quality enameled wire that is made of oxygen free copper or paper wrapped flat copper wire is used as conductor, the coils is provided kinds of types such as drum type, spiral type, improved spiral type, continuous type and interleaved type.
3.Oil tank
The oil tank is of barrel type or shield type, the heat-sinking element is provided with corrugated plate or plated radiator. The transformer has not been equipped with trolley, but there is a base that accords with national standard rail gauge welded at the bottom of box for your convenience. Safety protection device According to national standard and users' requirements, the transformer may be equipped with following
4.safety protection devices:
pressure relief valve, gas relay, signal thermometer, oil purifier, oil conservator, oil sampling valve, etc.
S9 type double-winding non-excitation tap-changing oil immersed power transformer of 35kV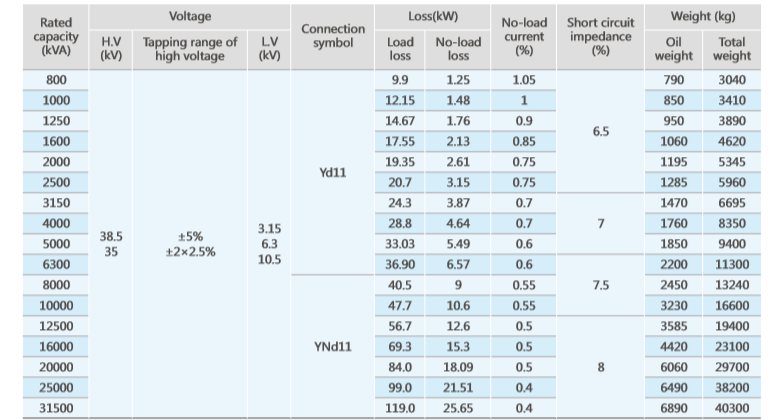 S11 type double-winding non-excitation tap-changing oil immersed distribution transformer of 6~10kV