OVERVIEW
SCB series resin insulation dry type power transformer is the new dry type low power loss and low noise, it imported FRVT manufacturing technology from ABB-Micafil in 1990's and newest technology of padding vacuum thin insulation pouring and low voltage foil winding from Europe. In the base of existing equipment clipping line from Germany Georg company and stowe burger winding machine, it imported HUBERS new pouring equipment from Germany and new type foil winding machine from Italy again. The product feature reached and exceed to IEC60076, GB1094.11-2007, GB/T10228-2008 standard by evaluation.
This product is widely used in transmit and transform system, hotel, restaurant, high building, commercial center, stadium, petroleum chemical factory, underground railway, station, airport and well drilling platform on sea, ect. It is special suitable for load center and place specially need fire proof.
FEATURES
Adoption of advance technology, first class equipment, superior material, scientist component, strict craft and high standard detection, so the SC series cast-resin dry type power transformer has the feature as following:
a. Copper conductor both used in HV&LV coil, whole sheet copper foil is used to wind for SCB series LV coil. Glass fibre reinforced, dry and pour epoxy resin at high vacuum condition, become firm complete after solidify, of which has high mechanical strength and short-circuit resistant ability, less partial discharge, high reliability and long service life.
b. Antiflaming, anti-explosion, no environment pollution. Adoption of imported epoxy resin and glass fibre composite insulating material, in which the proportional quartz powder is added, so the heat conductivity coefficient and flammability have been improved a lot than the performance of glass fibre material, beside, it will not produce harmful gas.
c. Because of special corrosion prevention coating for core clamp, the coil is non-hygroscopic and it can operate under high temperature or other severe environment.
No need dehumidification for intermittent operation.
d. High short-circuit resistant ability and lightning impulse withstand ability.
e. Heat dispersion is great for the thin resin bed in coil outside. Cooling type generally is air self cooling. Air cooling system can be equipped for every protection level transformer to improve short time overload capacity for safe operation
f. Low loss, low noise, great energy-saving, economic operation and maintenance-free.
g. Small volume, light weight, less floor space and low installation cost.
h. It Can be disperse installed in load center and sufficient close to power station for its high anti-flame and anti-epoxy performance, so it can reduce line cost and save expensive LV cost.
PARAMETERS
Voltage Grade: 6, 10, 20, 35 KV
Capacity Range: 30~12500 KVA
Voltage Regulation Type: off-circuit voltage regulation or on-load voltage regulation (equipped with vacuum or air on-load switch)
Tapping range: ±2X2.5% (off-circuit voltage regulation), ±4X2.5% (on-load voltage regulation) or others
Frequency: 50HZ or 60Hz
Phase: three phases
Connection Group: Yyn0: Dyn11;Yd11 or other
Short-Circuit Impedance: standard impedance or as per customer's requirement
Service Environment: relative humidity 100%, environment temperature not higher than 40℃
Temperature Rise Limited Value: 100K or 125K
Cooling Type: natural cooling (AN),air cooling (AF)or water cooling (WF)
Protection Grade: P00; IP20 (indoor); IP23 (out door) or others
Insulation Grade: F level or H level
Insulation Level: 10 KV level power frequency withstand voltage 35 KV, impulse withstand voltage 75 KV;
20 KV level power frequency withstand voltage 50 KV, impulse withstand voltage 125 KV;
35 KV level power frequency withstand voltage 70 KV, impulse withstand voltage 170 KV.
0.4 KV level power frequency withstand voltage 3 KV.
Climate grade: C2
Environment grade: E2
Flammability grade: F1
35kV SC(Z)9 Series Dry-type Power Transformer
Main technical parameters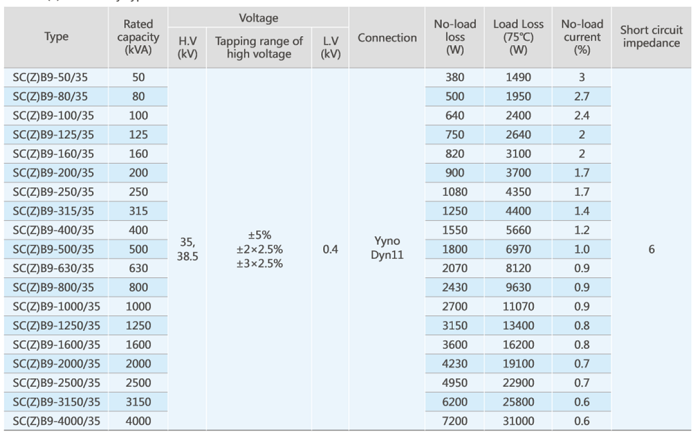 SC(B)10-30~2500/10type cast resin dry-type power transformer main Technical parameters